🔍 If one server isn\'t working, no worries! Simply click the next server option to watch your favorite movie hassle-free.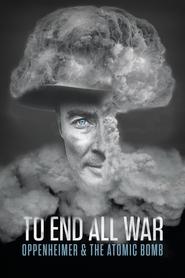 To End All War: Oppenheimer & the Atomic Bomb
Explore how one man's relentless drive and invention of the atomic bomb changed the nature of war forever, led to the deaths of hundreds of thousands of people and unleashed mass hysteria.
Views: 36
Genre: Documentary, History
Director: Christopher Cassel
Actors: Alan B. Carr, Bill Nye, Christopher Nolan, Ellen Bradbury Reid, Gregg Herken, J. Robert Oppenheimer, Jon Else, Kai Bird, Mareena Robinson Snowden, Richard Rhodes
Duration: 88
Quality: HD
Release: 2023