🔍 If one server isn\'t working, no worries! Simply click the next server option to watch your favorite movie hassle-free.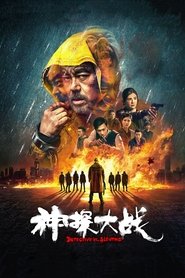 Detective vs. Sleuths
When Hong Kong is rocked by multiple gruesome murders, the police forms a task force to investigate. Jun, once a brilliant detective who suffered a mental breakdown, begins his own investigation. Eventually, the police learn that the murder victims are all suspects of cold cases being rubbed out by a figure known as "The Sleuth". Now, Jun and a detective from the task force are on a race against time to beat the brutal killer at its own game.
Views: 822
Genre: Action, Crime, Mystery, Thriller
Director: Becky Chan, Carmen Lau, Jack Wong Wai-Leung, Terry Ng Ka-wai, Wai Ka-fai
Actors: Carlos Chan, Carman Lee, Charlene Choi, Edward Ma, Jeana Ho Pui-Yu, Kathy Yuen, Lau Ching-wan, Man Kit Cheung, Raymond Lam, Tan Kai
Country: Hong Kong, China
Duration: 102
Quality: HD
Release: 2022